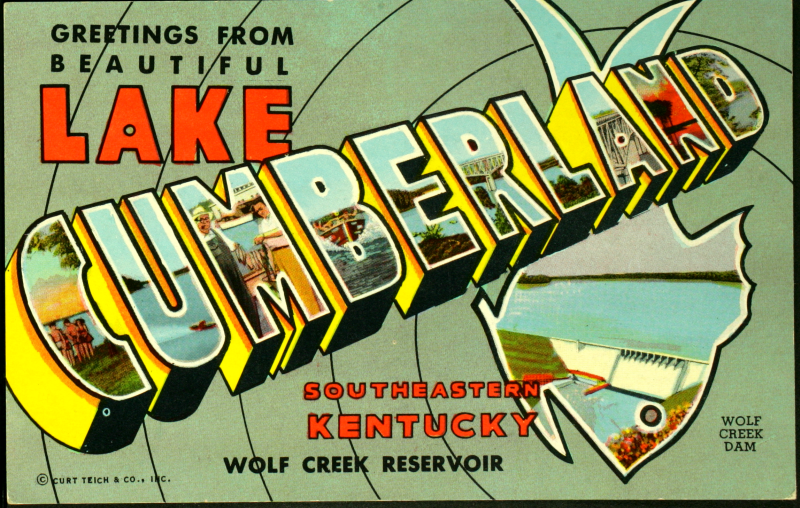 ---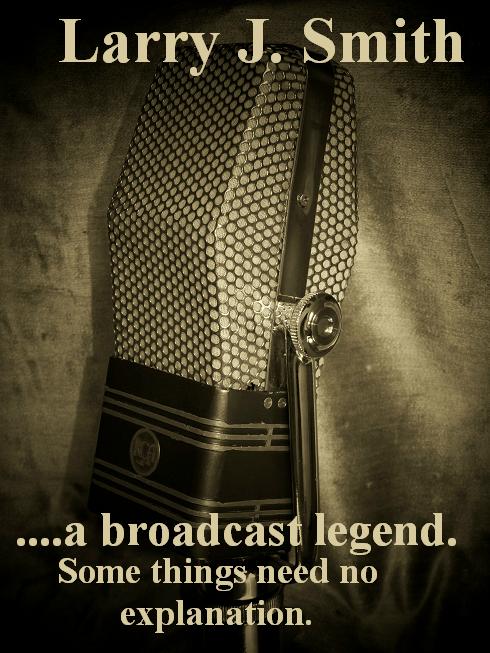 ---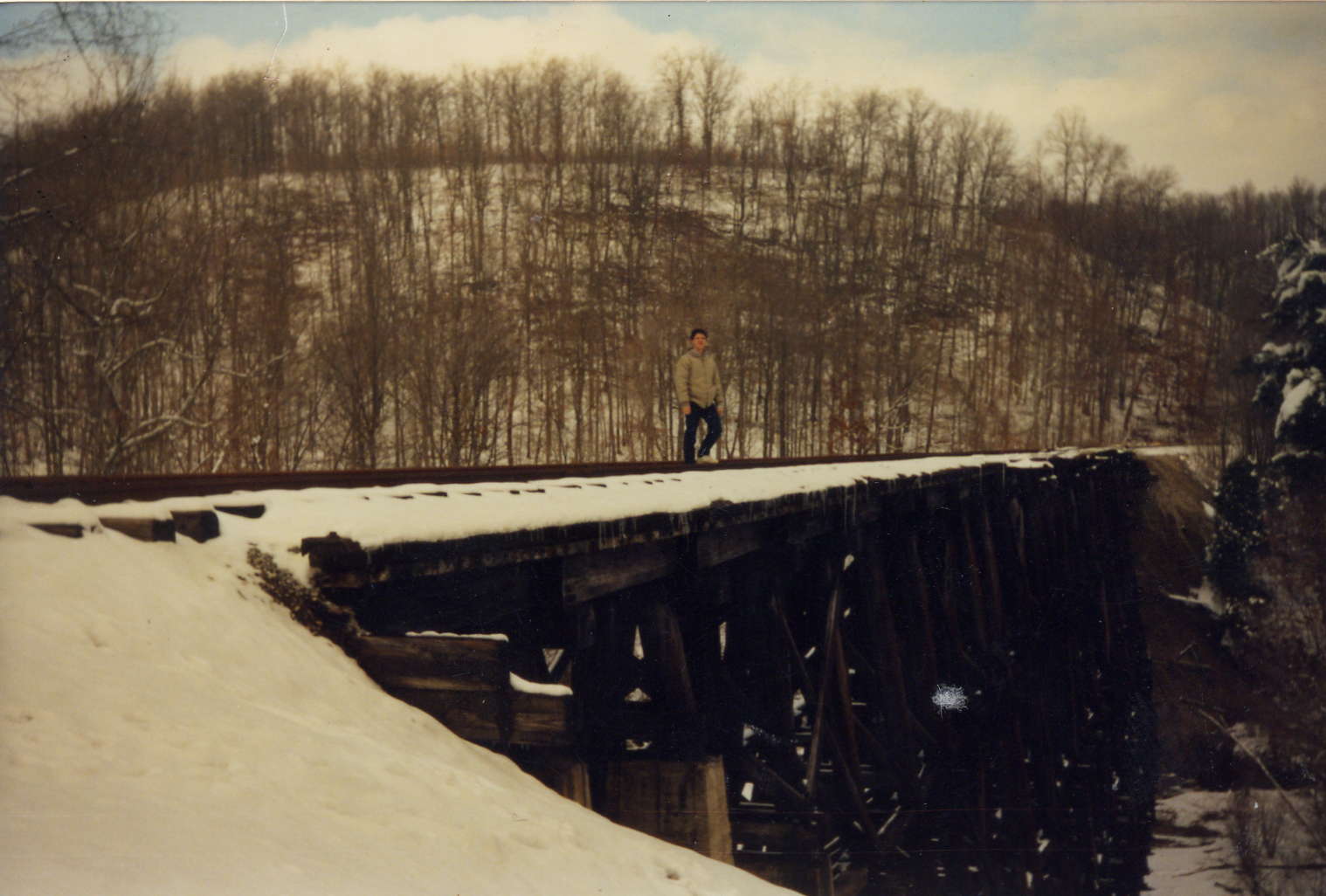 ---
Greetings WAVE listeners...

As always just a quick thank you for visiting my page on the wave web site. I hope that you've noticed that I have up-graded the music library on 92.7 The Wave! Our station has pulled out all the stops and all summer we're giving you a bigger and better variety of music. The music that you grew up to in the 60's, 70's, 80's and 90's mixed with only the best new songs. It's sure to bring back a memory that will make you laugh, cry or just chill out on a lazy summer day thinking about where you you've been and where your going. We have thousands of people asking for a copy of our play list "which is "TOP SECRET"! Sorry, it is very closley guarded! But if you listen all summer you will hear every song! It is my goal and every member of the Wave family to give you the BEST radio station in this market, with only the best music and outstanding news & weather coverage. Thank you WAVE-LAND! Truly..."The last great station"

Program Director,
Larry Smith
---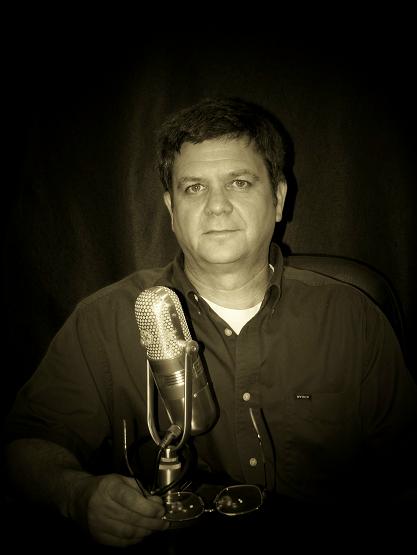 ---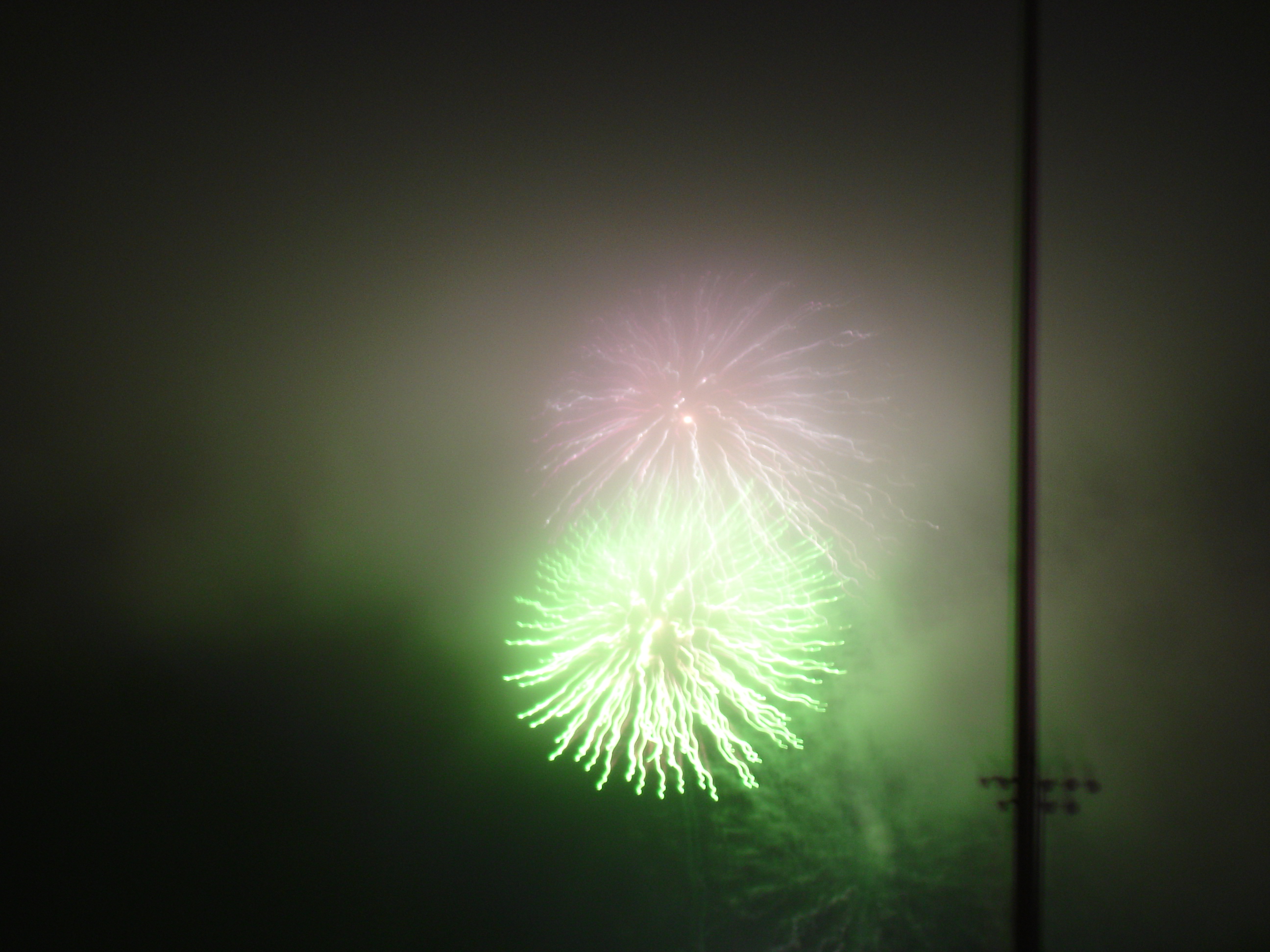 Campbellsville 4th of July Fireworks show
---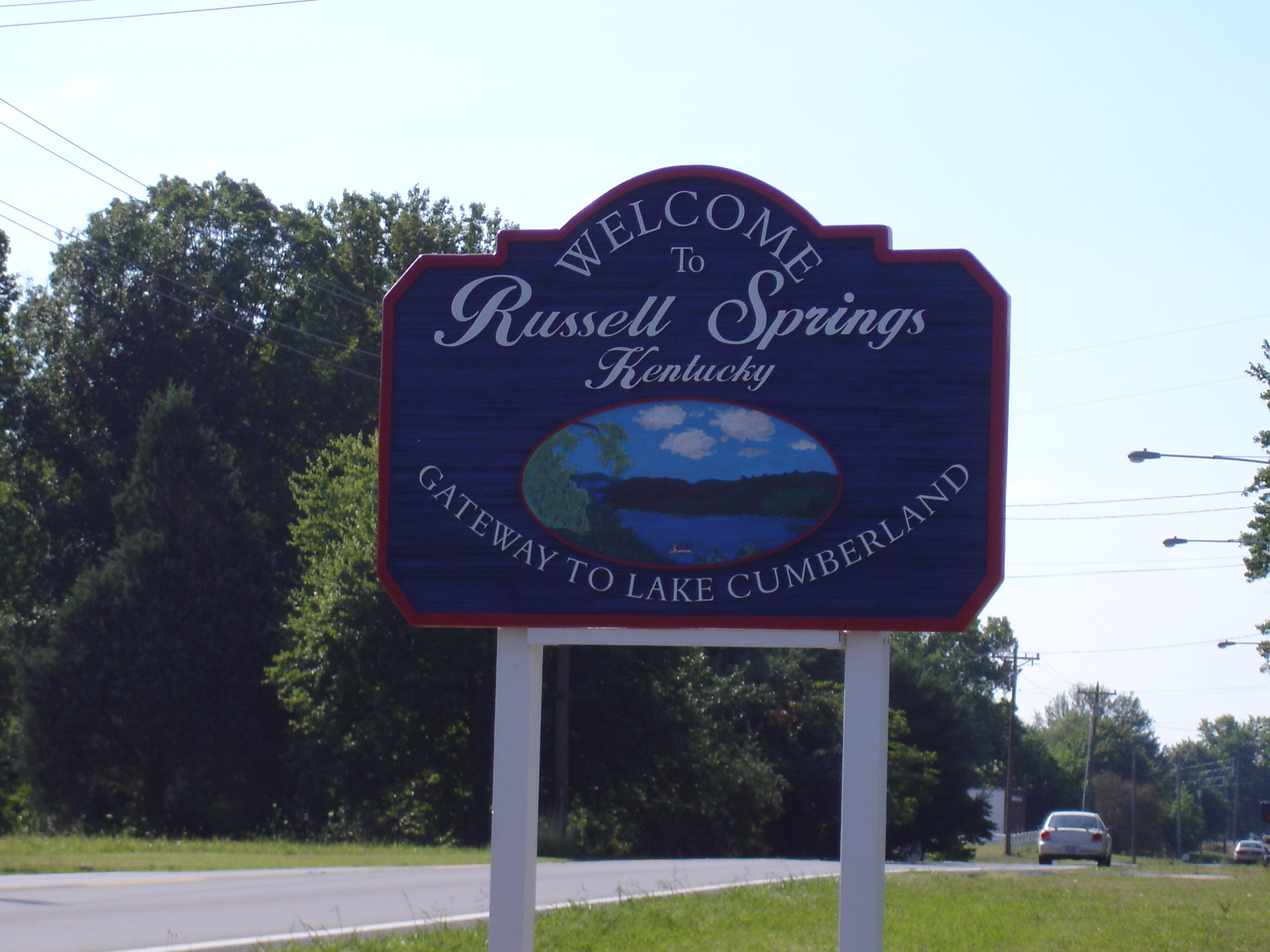 Just down the road from The Wave studio on Highway 80.
---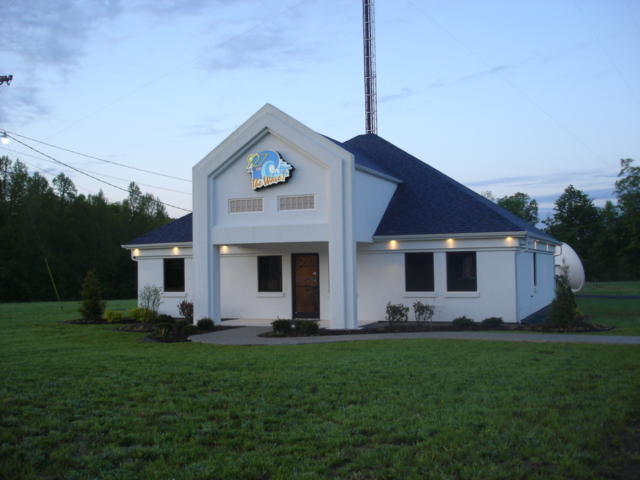 ---


Hi and welcome to My page on the Wave's web-site. I hope that you'll join me for news from Russell, Adair, Green, Taylor and regional news. It's important that you start your day with the Wave, I'll be the first to let you know if school is cancelled, when roads are blocked and when accidents occur! You'll get the first word on the Wave...At 92.7 The Wave, every morning is planned with you in mind, so Wake-Up with the #1 Radio Station, 92.7 The Wave.

Thanks for listening and be watching for photos from my 30 years on the air.

Larry Smith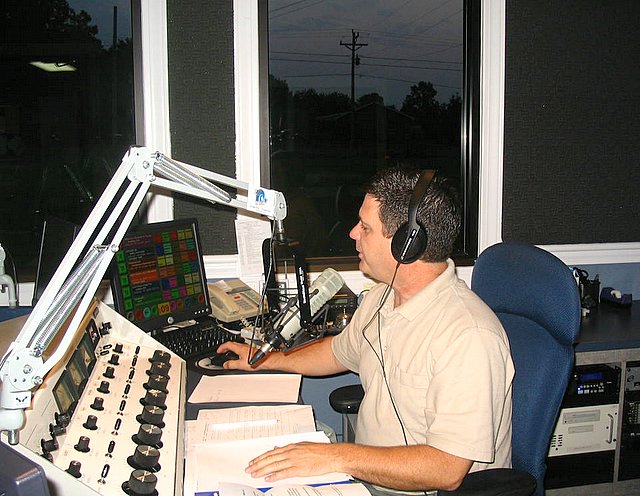 Now, Enjoy 30yrs of "Kodak Moments with Larry Smith!!!

---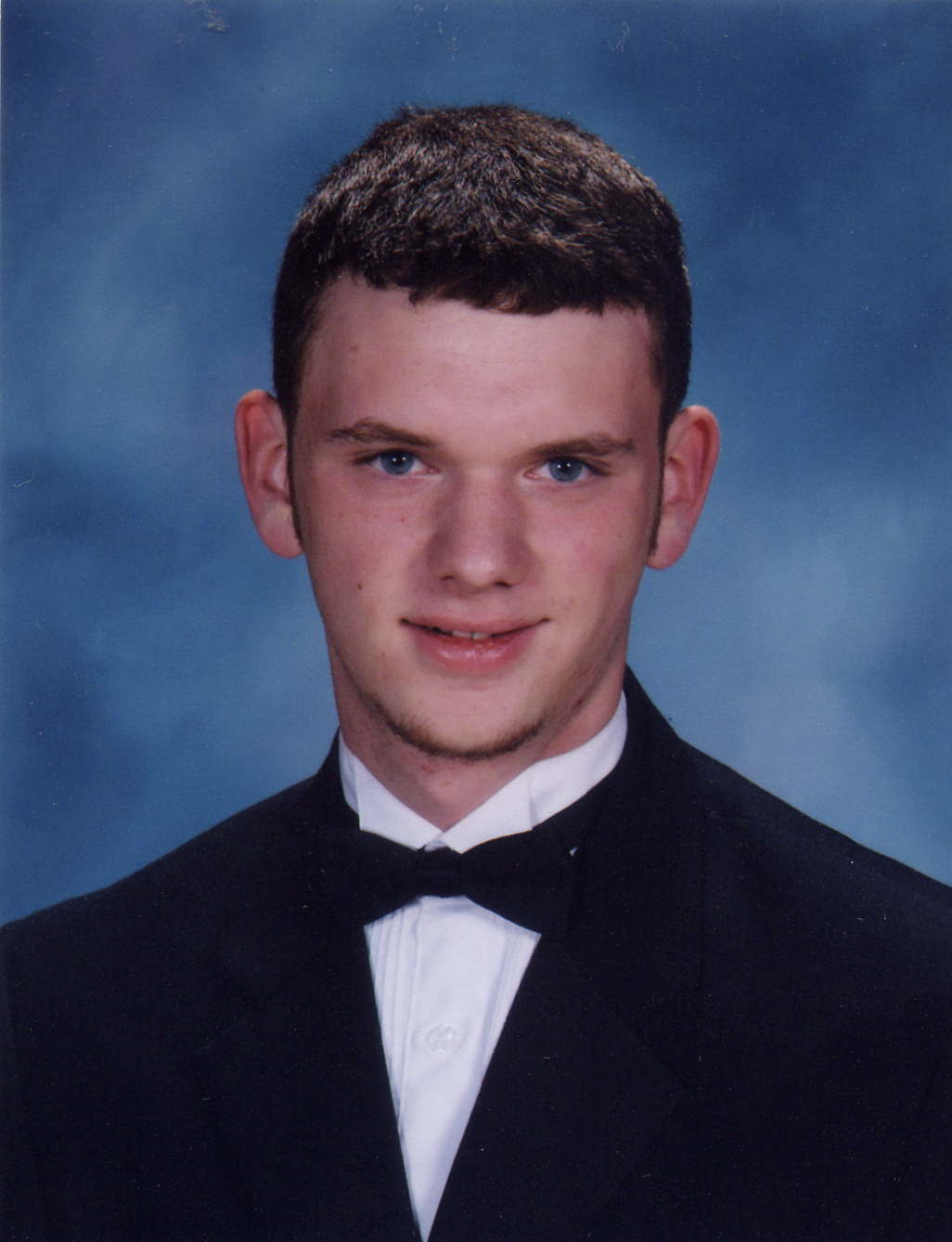 Happy 19th Birthday to my son Brennan Smith.
---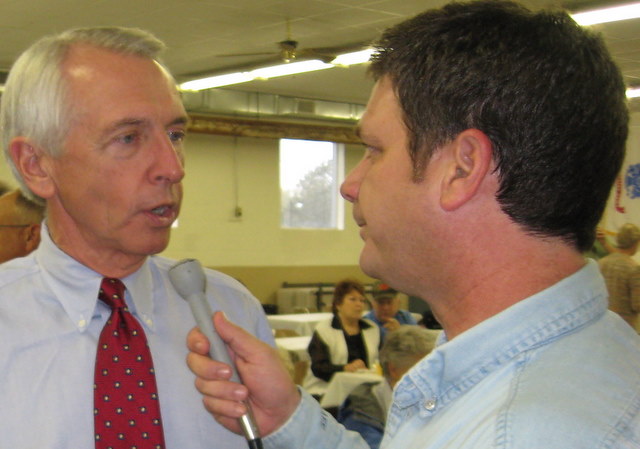 Gov Steve Beshear speaks with me for Wave News.
---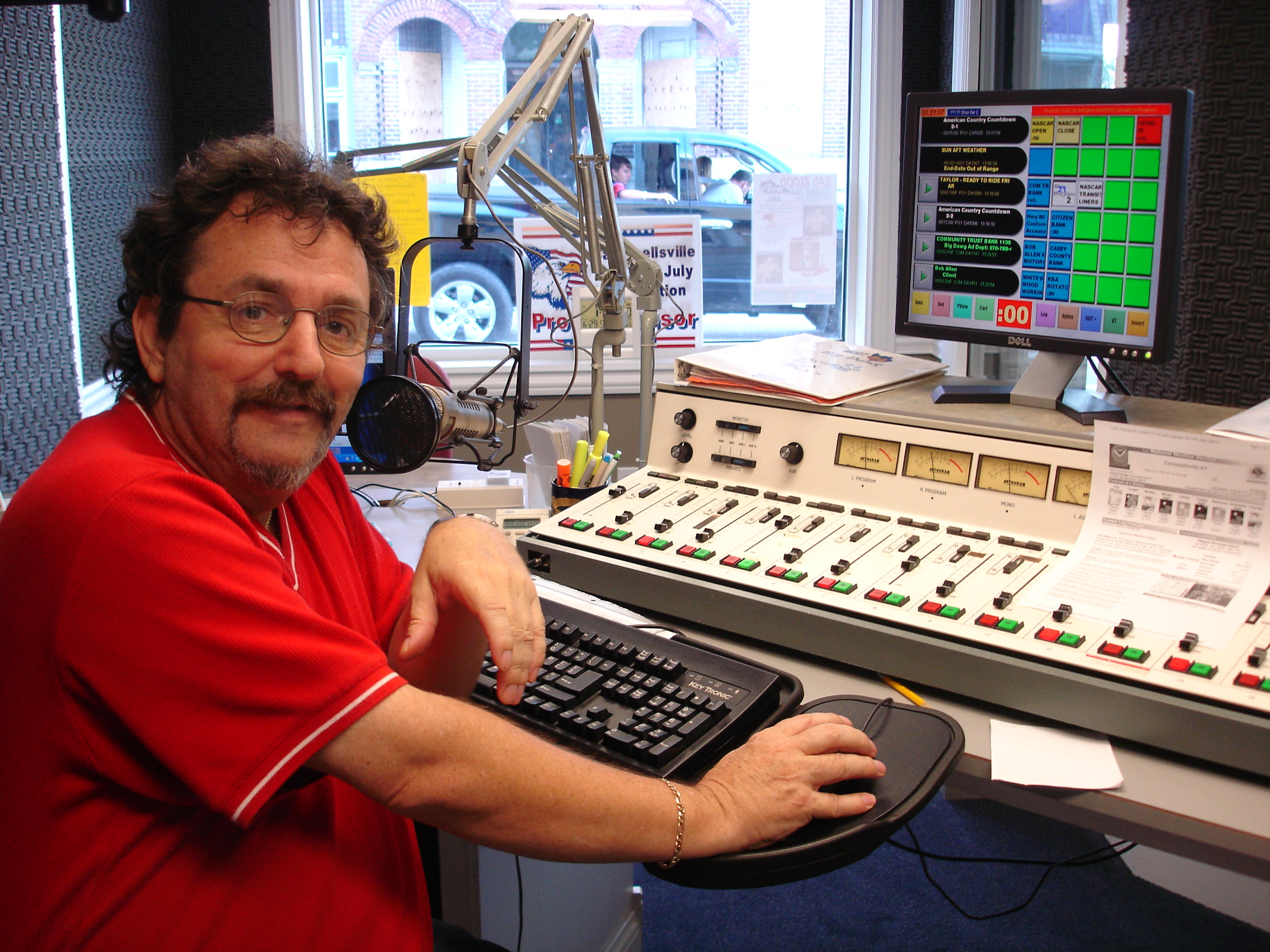 Mike Wilson at WVLC "The Big Dawg"
Mike is the former owner and operator of WGRK in Greensburg and was my first radio boss. Mike put WGRK am on the air in 1972 and WGRK FM on in 1977 he also is the former owner of WAKY FM in Springfield Kentucky, after retiring Mike now works for us at WVLC & The Wave.
---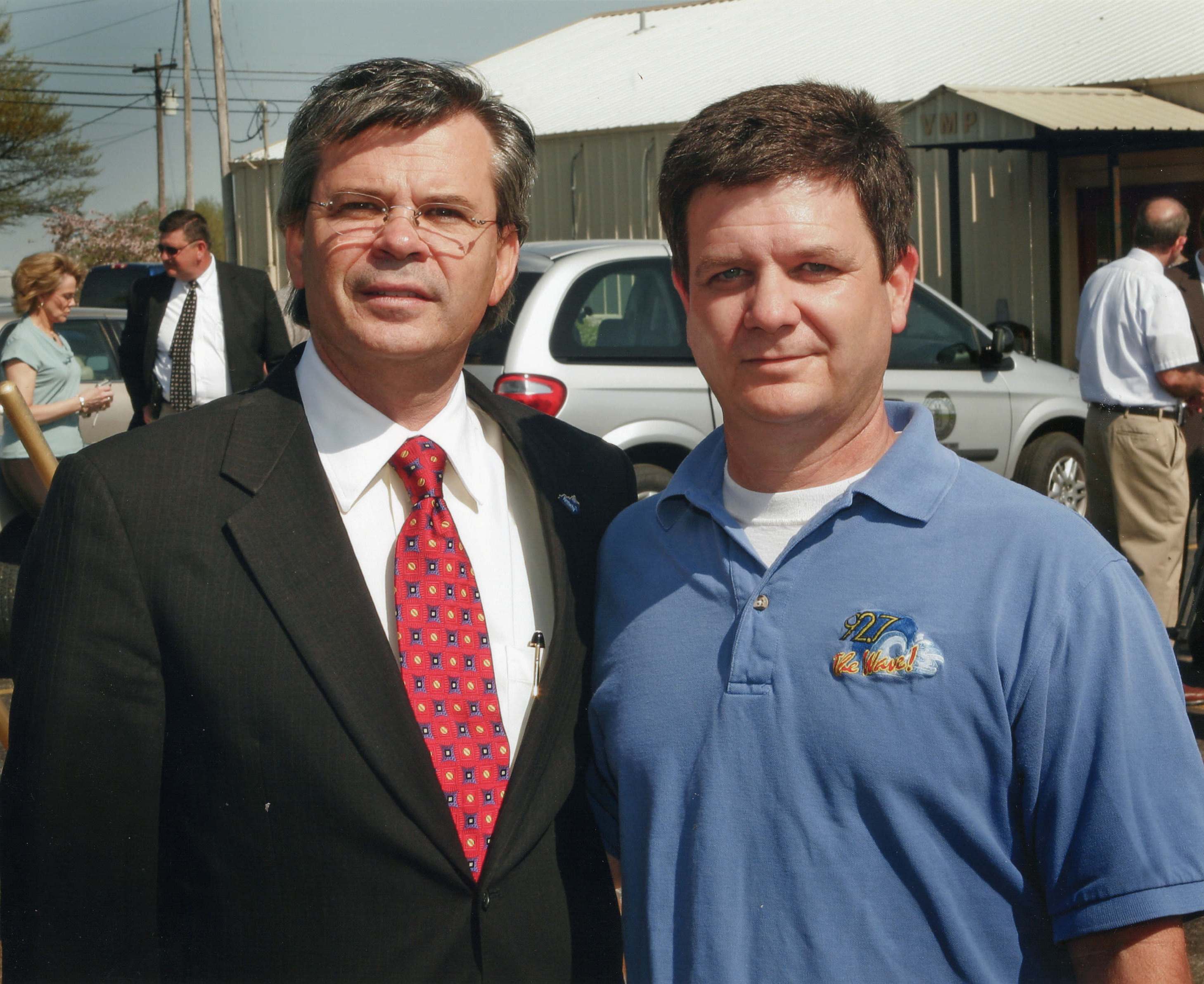 Gov. Ernie was always stopping by for a visit.
photo by Kenneth Pierce of Campbellsville.
---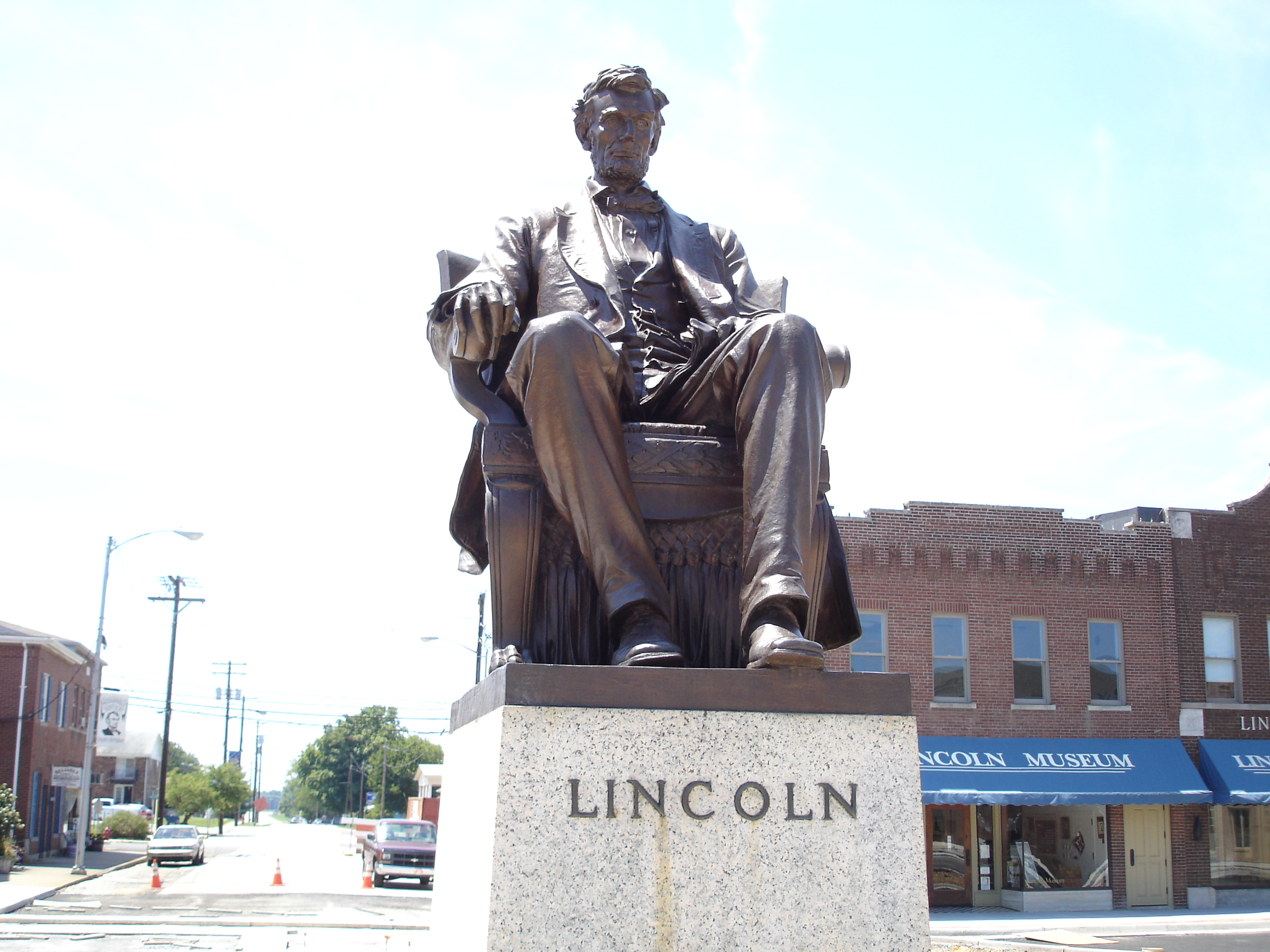 Honest Abe
Hodgenville Ky
---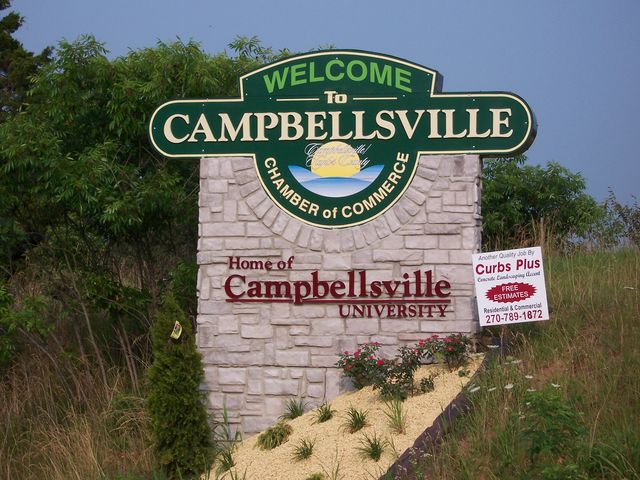 ---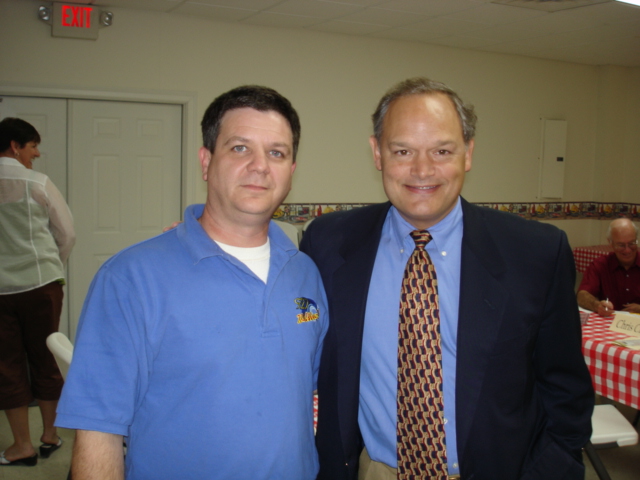 Former Lt. Gov Steve Henry has been an on air guest with me on numerous occasions.
---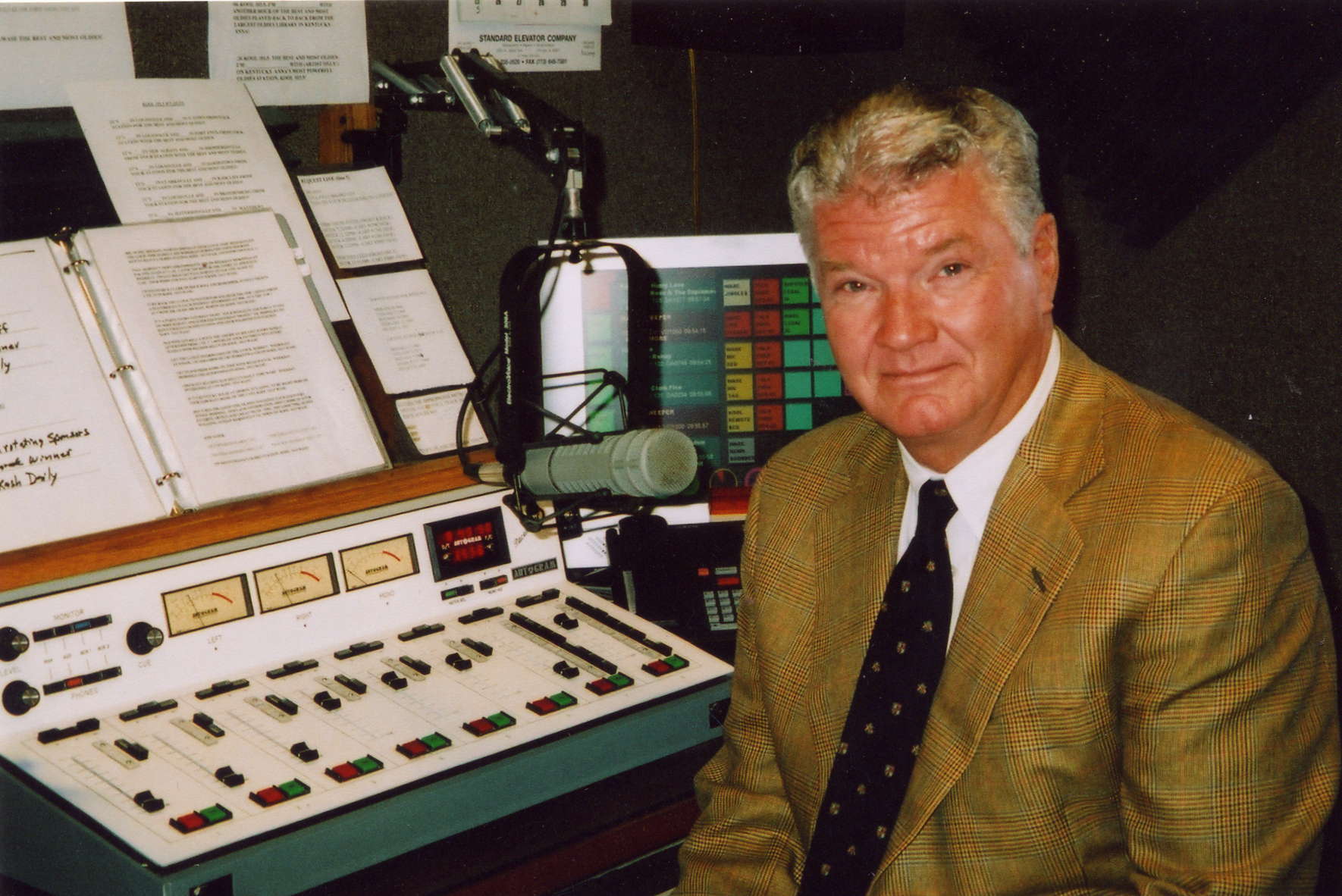 Bill Walters Owner of WAKY FM 103.5 & Big Cat WLVK FM 105.5 in Hardin County. I worked for Walters twice. Everybody needs to work for Bill at least once. This man will teach you radio skills by just giving you the look, Thanks for the WAKY tee-shirt Bill!
---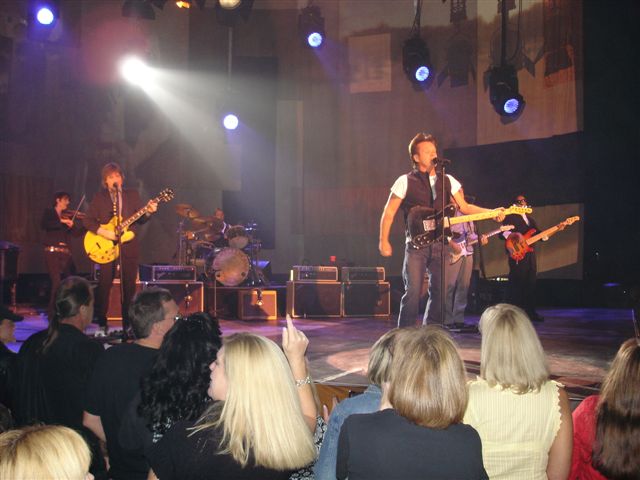 John Cougar Mellencamp live in Louisville. It was a fun Sunday Night!
---

I worked at WHAS radio at this location at 6th & Chestnut St in Louisville, this building currently houses WHAS T.V.
---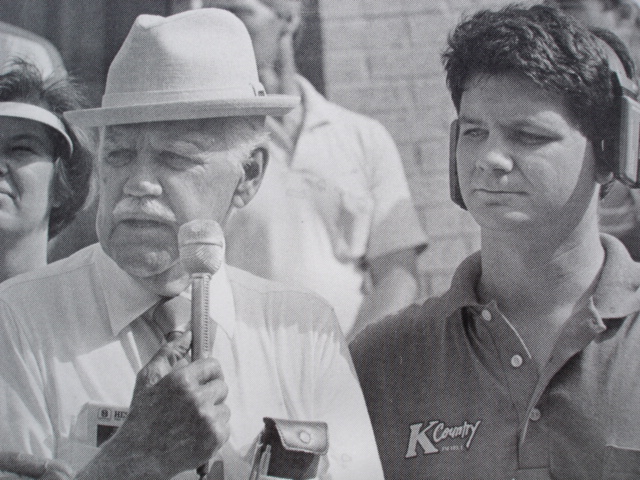 This photo is the 4th of July Celebration in Campbellsville in the early 90's. To my left is the late great Tommy Kerr. Tommy was my mentor in many ways, He gave me my first live words on the air at WTCO AM-FM in Campbellsville. In 1980 he left WTCO to take a job at WGRK in Greensburg and we worked together until his death in 1995. Tommy was on the air for over 40 years and will never be forgotten.
---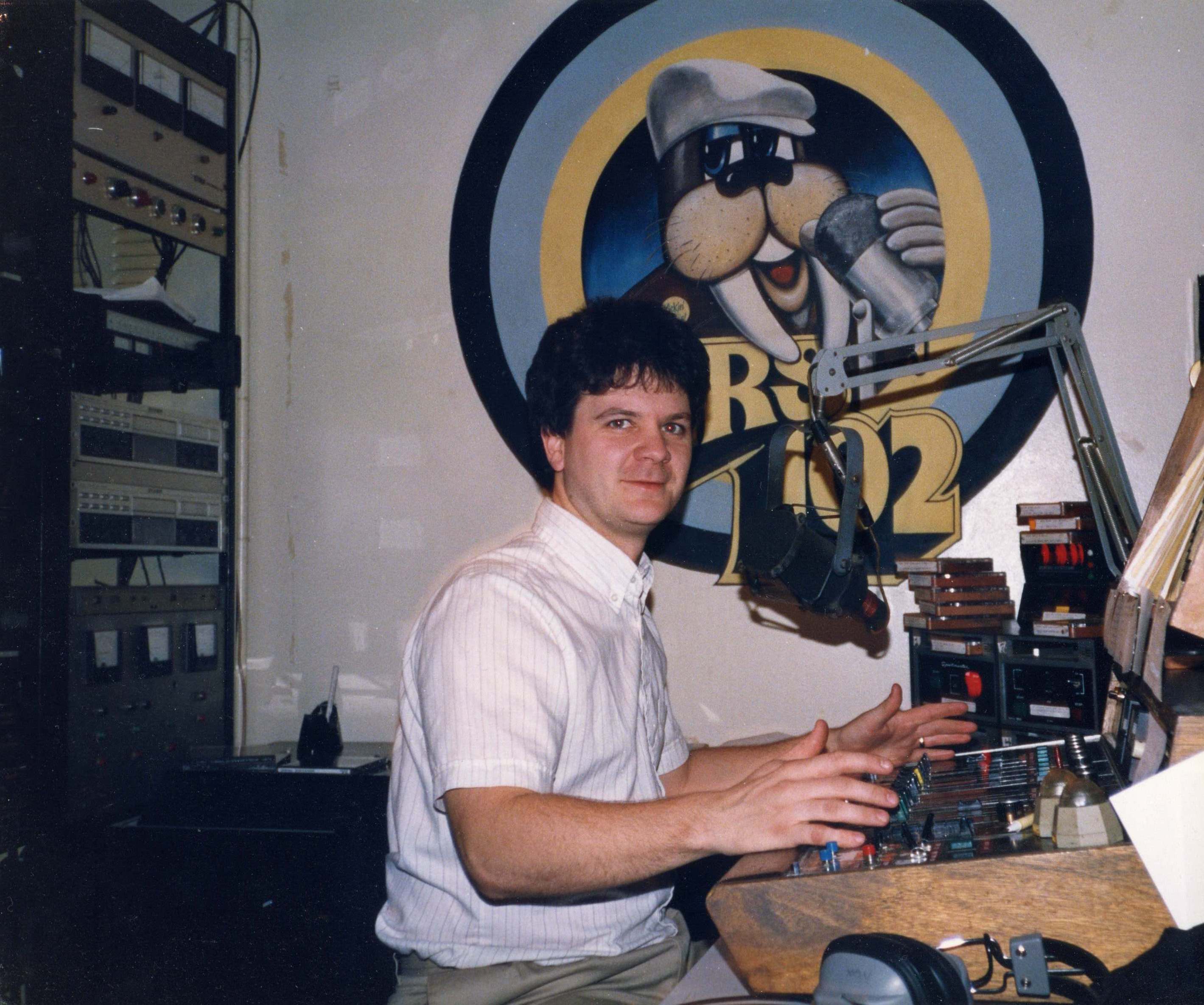 My first job in Louisville at WLRS FM 102.3, "The Walrus rocked Louisville" formerly located at 4th & York.
---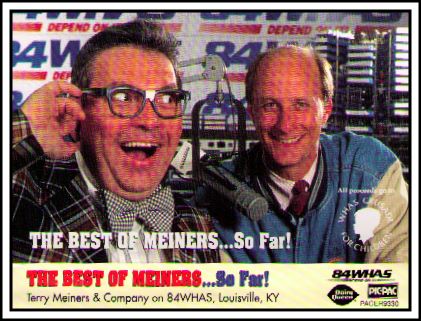 Randy Davidson left and Terry Meiners on the right.
Randy's family were from Green County, Davidson was copy writer, voicer and the played the charactor "Buzz Baxer" on the Terry Meiners Show. While working at WHAS Randy and I met and worked together and discovered that we were from the same town and born at the same hospital.
---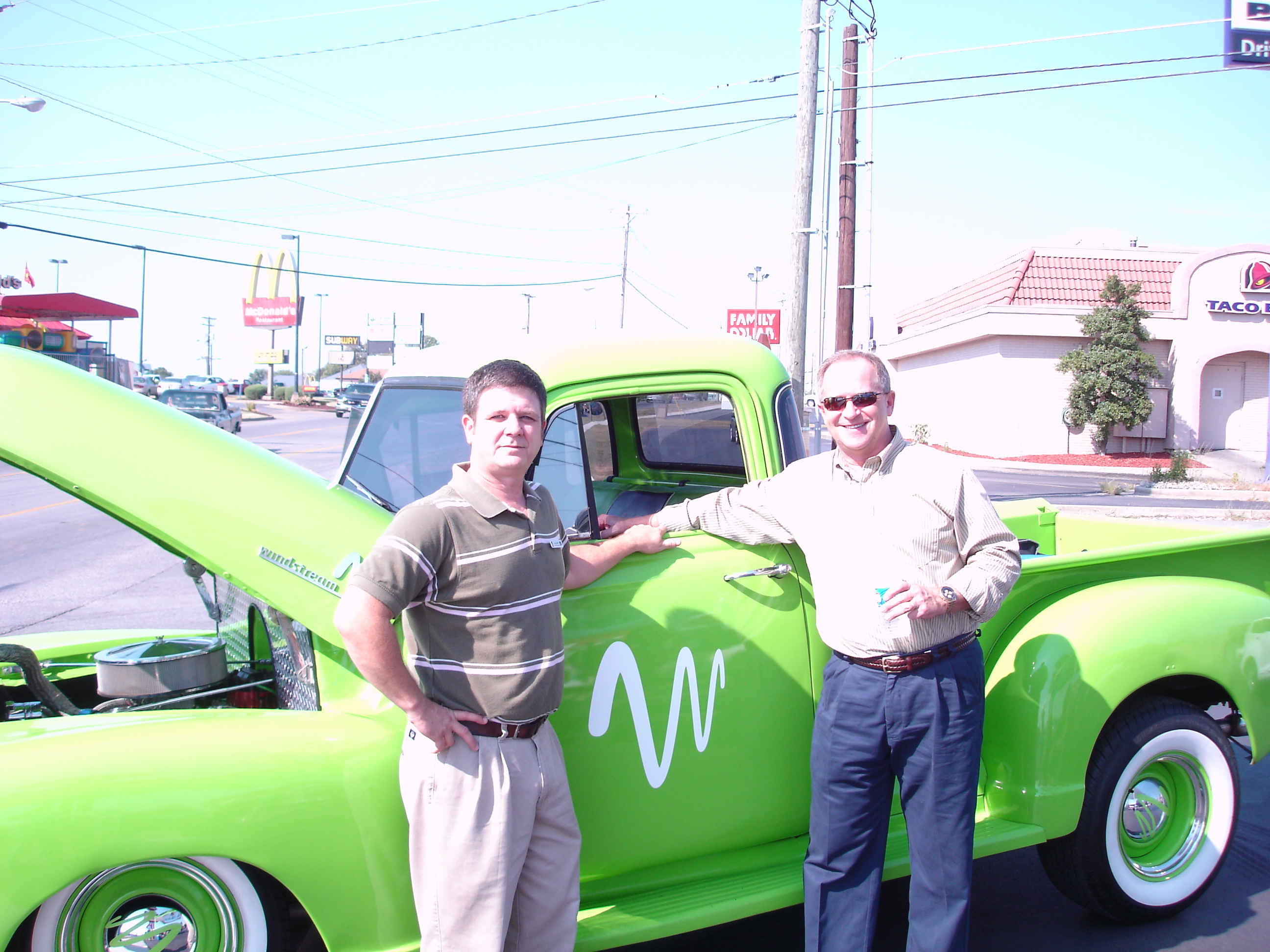 The Windstream truck...Alan & I were giving out FREE Ice Cream during last years heat wave during a Windstream promotion.
---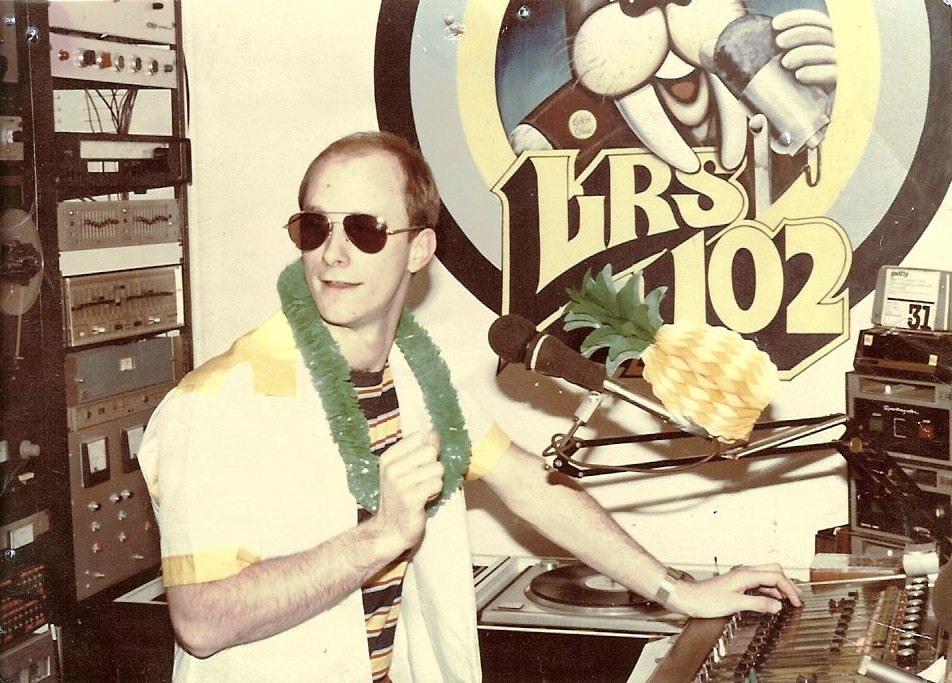 Terry Meiners on WLRS
---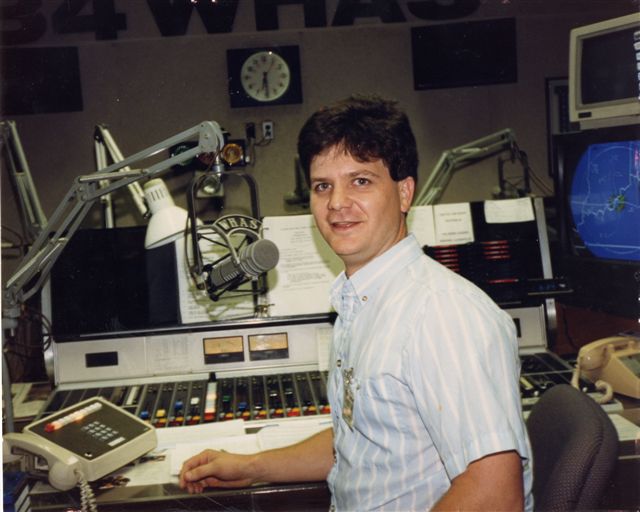 84 WHAS Radio Louisville Kentucky...
This was a high-light in my broadcasting career, This station covered 38 states in the USA at night and I did the all-request "Classic Hit's Weekend" Receiving request from all over the country including Canada, The Bahama's and just about anywhere unless Cuba's Castro was jamming my broadcast from the Cuban's and the Floridians.
---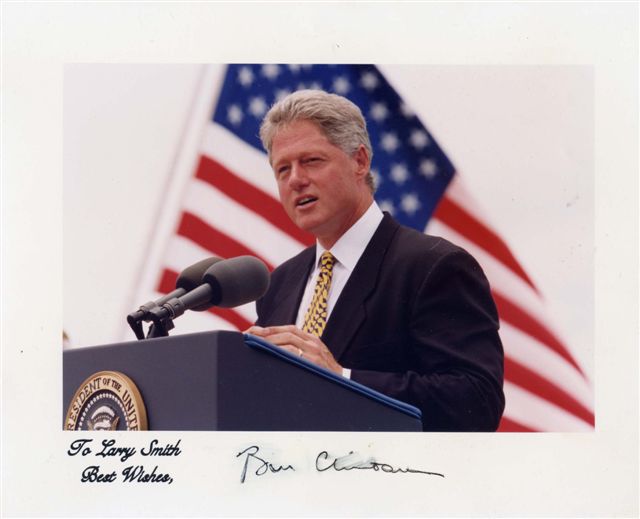 On my 30th Birthday this was my gift from President Clinton.
---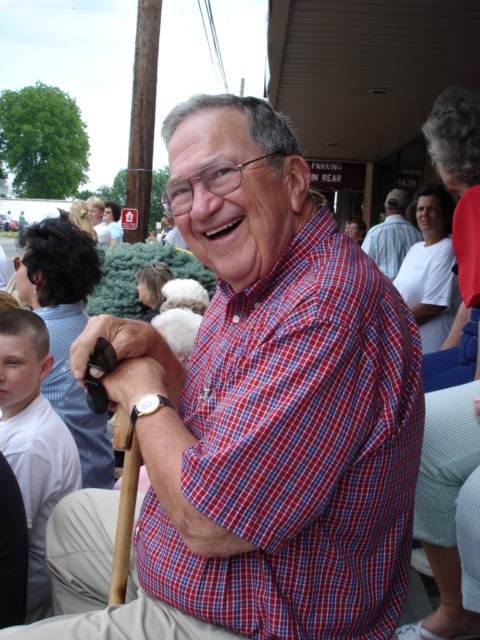 My good friend Ron Finley
---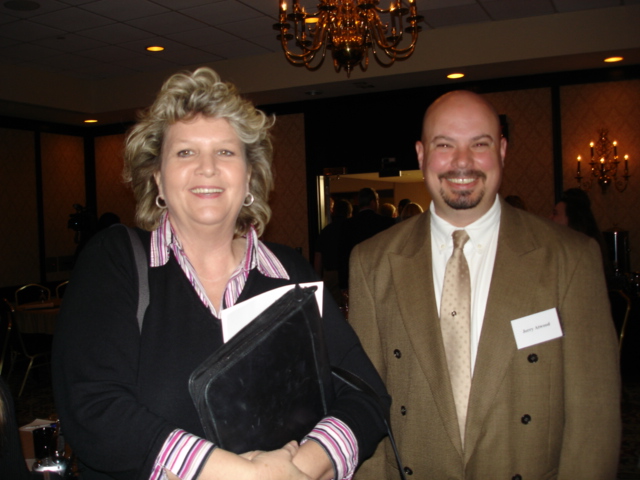 Jessie & Chase.
Jessie Crabtree is the former owner and operator of The former WKNK in Edmonton. Jessie is the current owner of WKYR AM & FM in Burkesville. Chase is our afternoon man on 99.9 The Big Dawg in Campbellsville.
---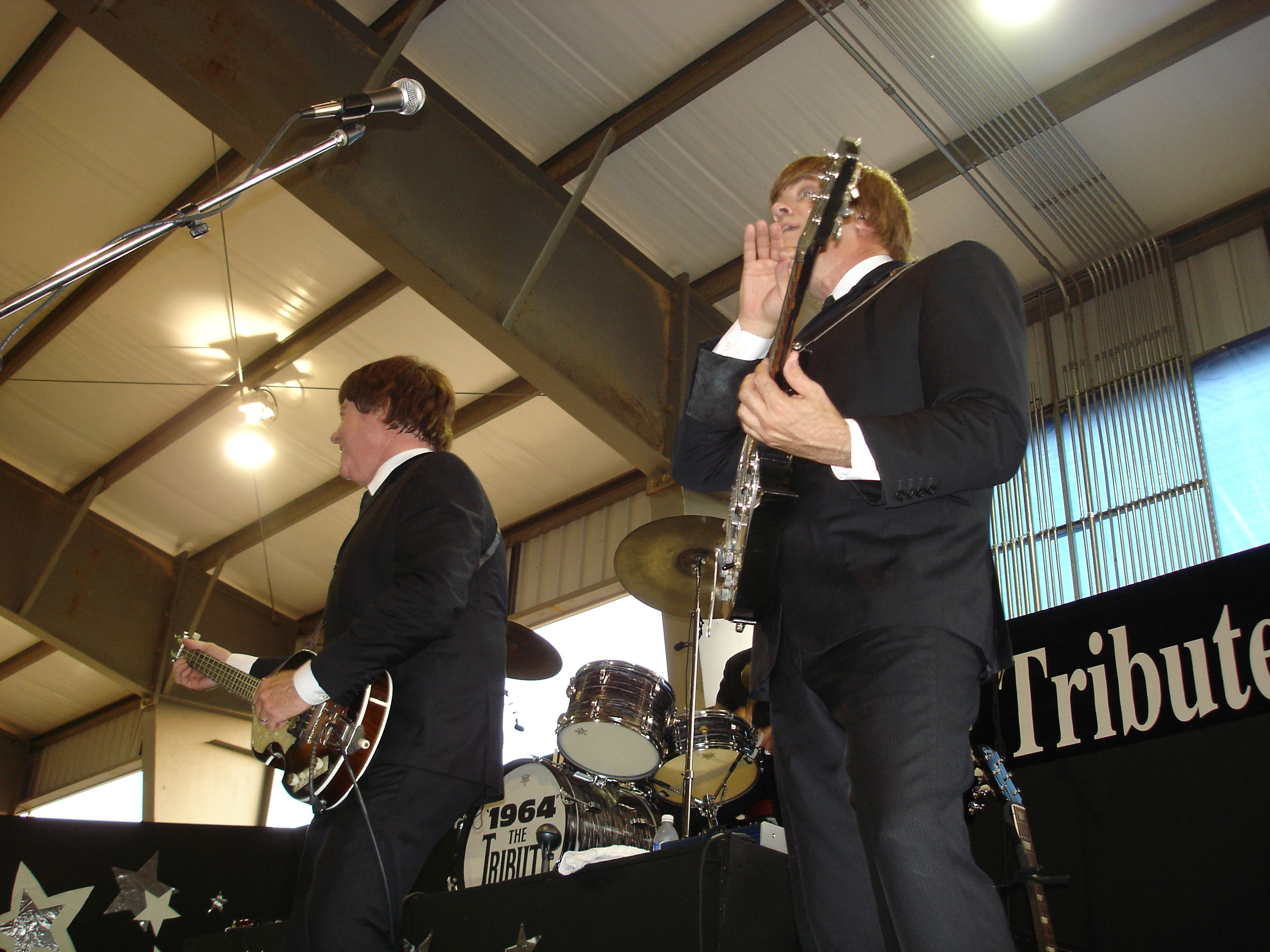 1964 Beatles Tribute in Liberty Kentucky.
You need to see these guys...It's the best!
---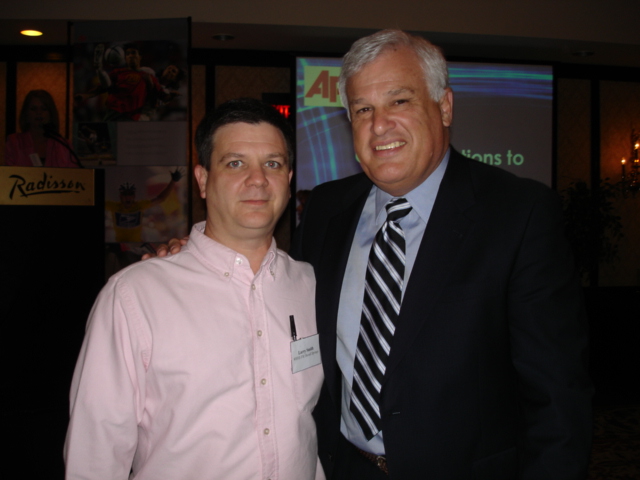 WHAS Televisions Gary Rodemier.... While working at WHAS Radio Gary became a dear friend. This was taken after I won an A.P. award in Lexington. Rodemier is from western Kentucky and is one of today's smoothest newsmen on TV.
---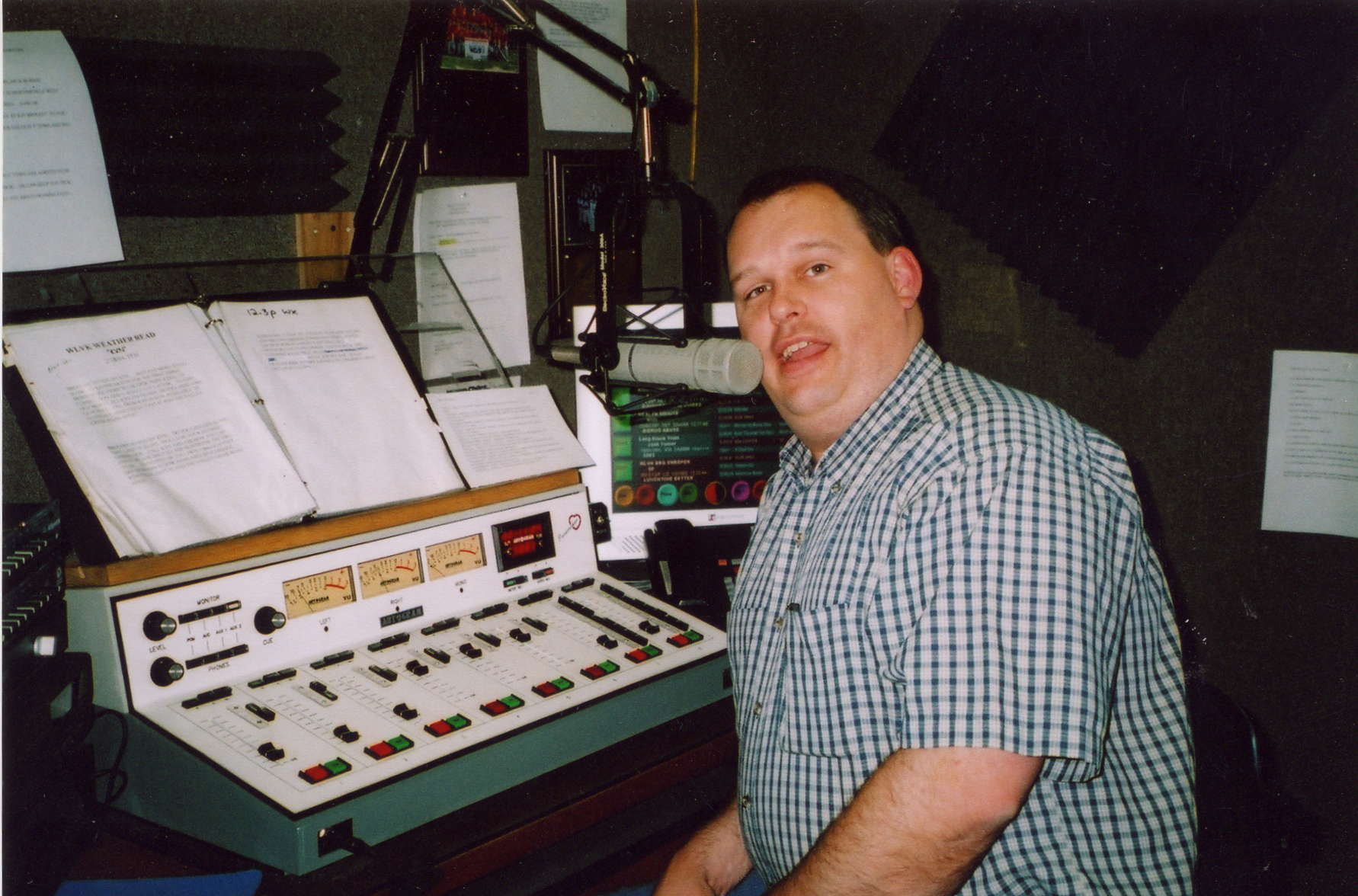 This guy is Cale Tharp, Cale & I worked together at WGRK in Greensburg also in Louisville and in 2003 at "Big Cat 105.5 WLVK in Ft.Knox . Cale is no doubt one of the best programmers in country radio, this guy got his start at 1430 WLCB in Hodgenville.
---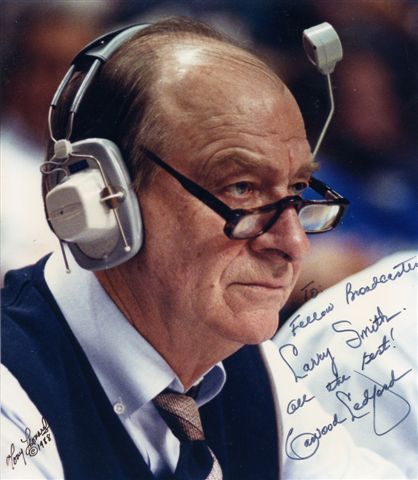 The late Cawood Ledford. Cawood was a role-model for everyone who dreamed of being in the broadcasting business. Cawood voice can still be heard in the memories of every true Kentuckian who not only loved UK sports but the state of Kentucky. It was a real thrill for me while working at the big 50 thousand watt WHAS in Louisville, Cawood would do commentary for WHAS and broadcast live from the Kentucky Derby a sport that Ledford would'nt miss. After finding out about Cawood's illness I called and wished him well and he sent me this photograph
---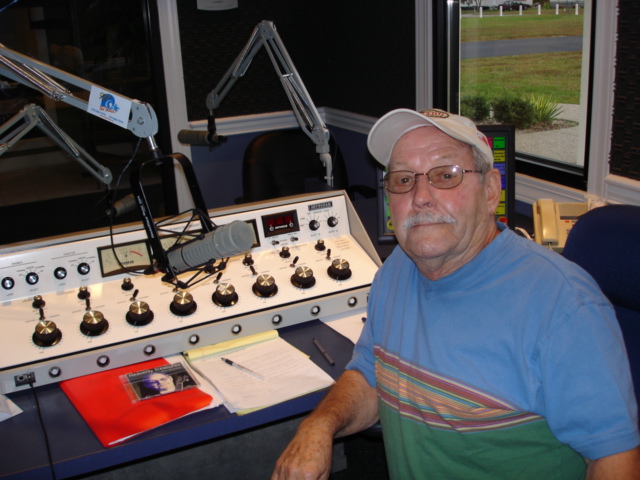 My good friend Roy Warriner stopped by to do a little work on the air at the Wave.
Roy you are dear to us all!
---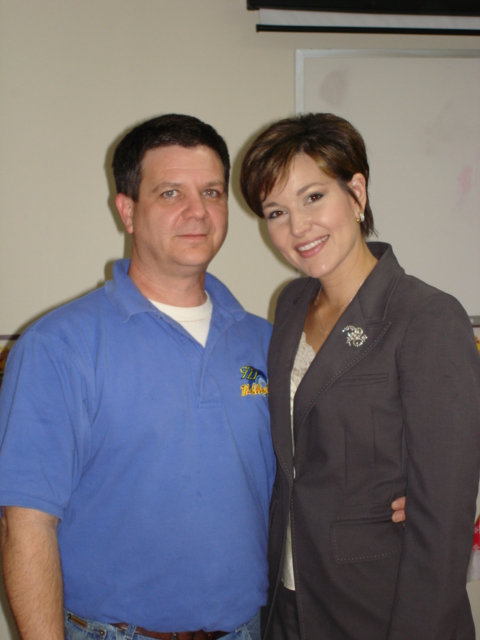 Heather French Henry stopped in at The Wave.
---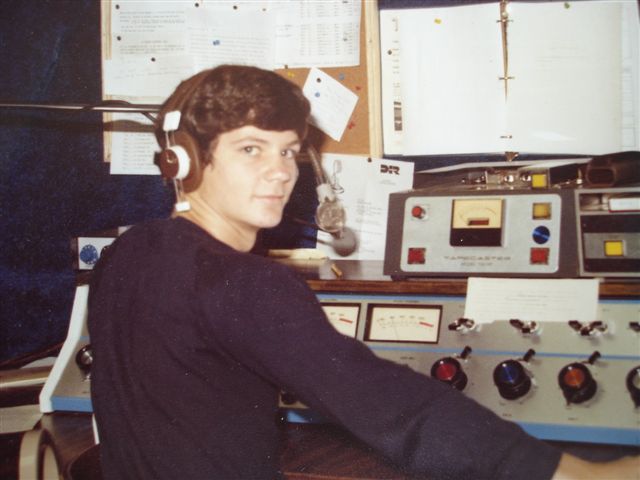 My first day on the air at WGRK AM & FM in Greensburg.
This was a dream come true for me, I grew up loving radio I remember sitting in the 5th grade at Summersville Elementary School day-dreaming about being a radio announcer. My break came in my teen years when I got a job mowing grass at WGRK while at the same time being educated on how to do radio at WTCO AM & FM in Campbellsville. WTCO was a Country station and WGRK played some country and pop during the day and rock at night. The owner of WGRK (Mike Wilson) came to me and told me that he did'nt want me on the air at WTCO anymore and hired me to work the weekend shift on Stereo 103.1 WGRK playing rock music and this is how it all started!


---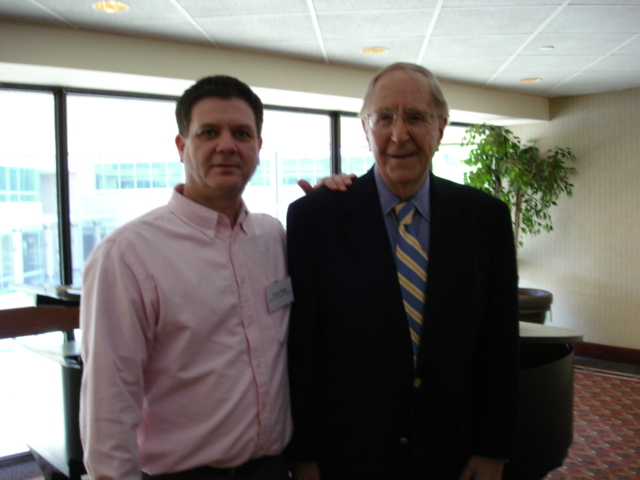 Milton Metz another Great Radio man! Metz always made time to chat with me while working on WHAS Radio.
---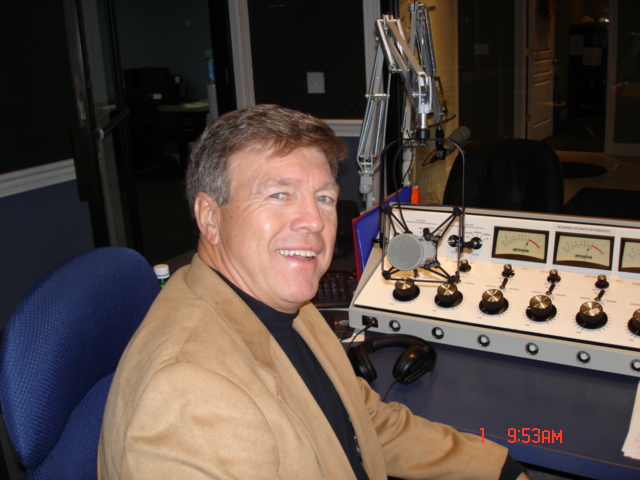 Farm Bureau Man Mike Feldhaus another one of my guest this photo was made on the air at 92.7 The Wave.
---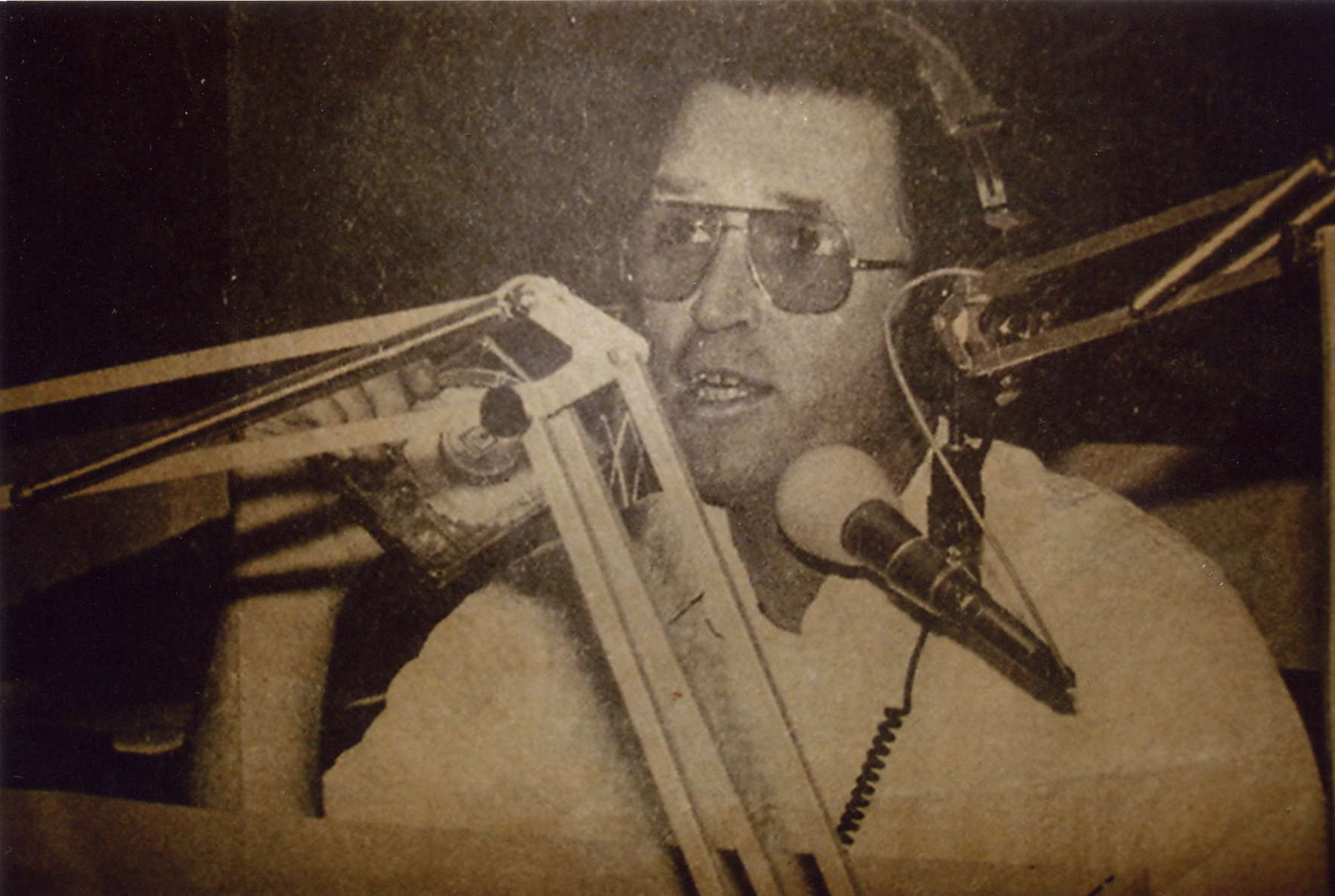 Jim Walker on Q-104

Jim "Beau" Walker was "Q" first morning man working only one year to the day! Walker then came to WGRK. Walker was a "hoot"

---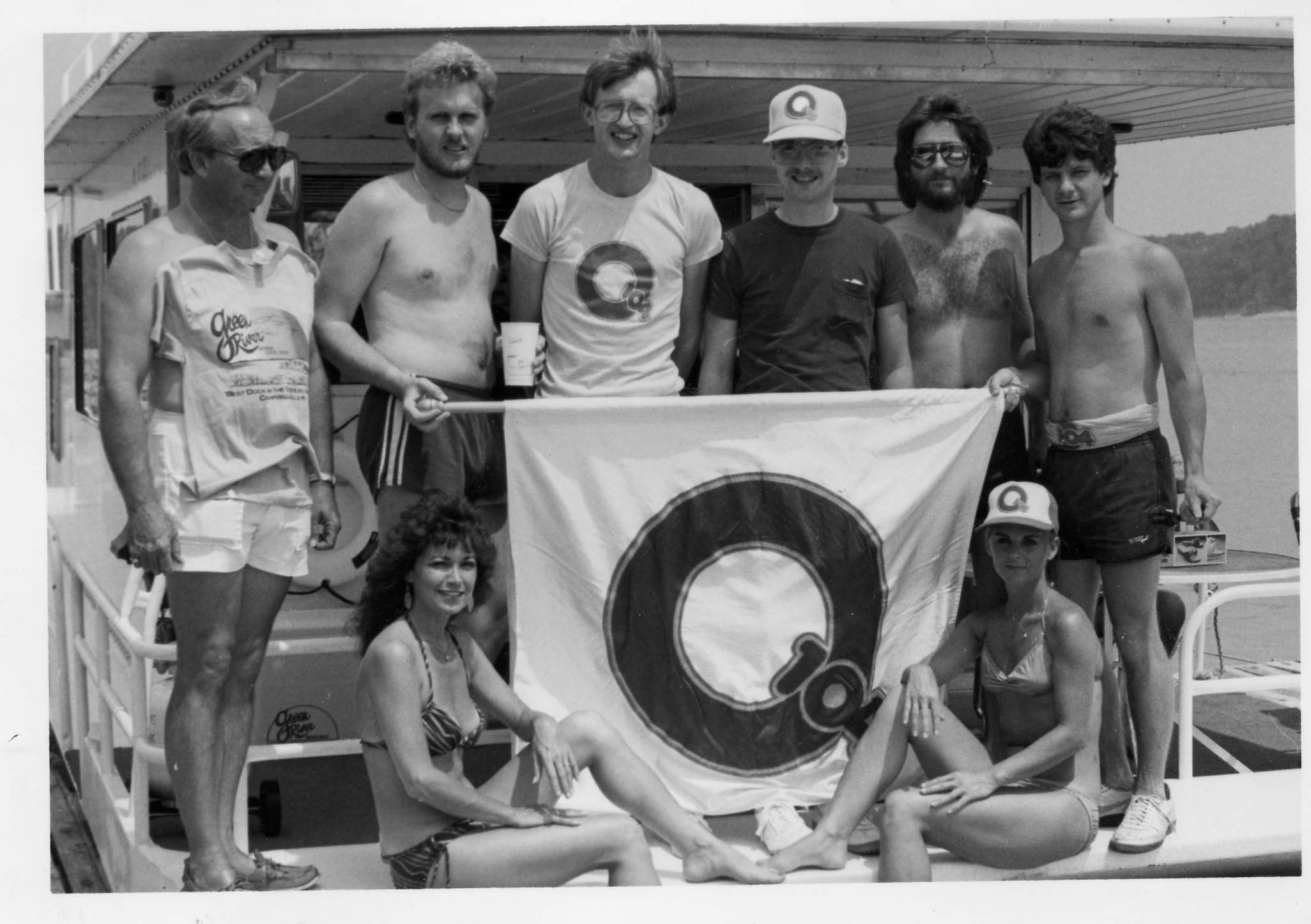 This photo is from the Very first Q-104 Summer Splash in 1984.
in the photo is Bernie Clevenger, Jim Jackson, Tom McClendon, Mark Royce, Terry Wilcher, Larry Smith, Cherly Phillips and Kathy Ramsey.
---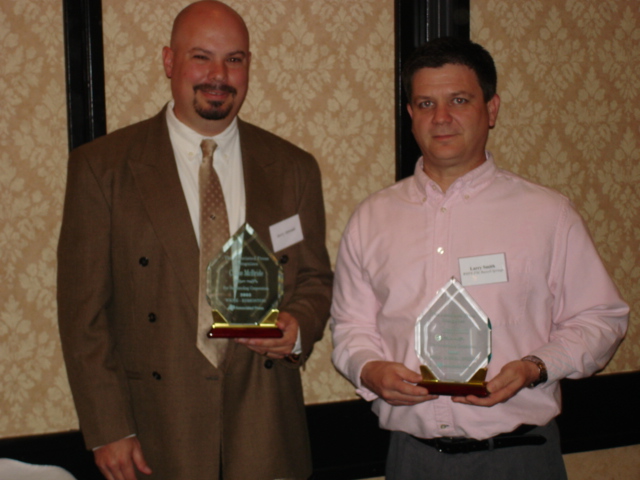 Chase McBride and Myself receiving awards from Associated Press during the annual awards banquet. Chase works on our sister station 99.9 The Big Dawg in Campbellsville.
---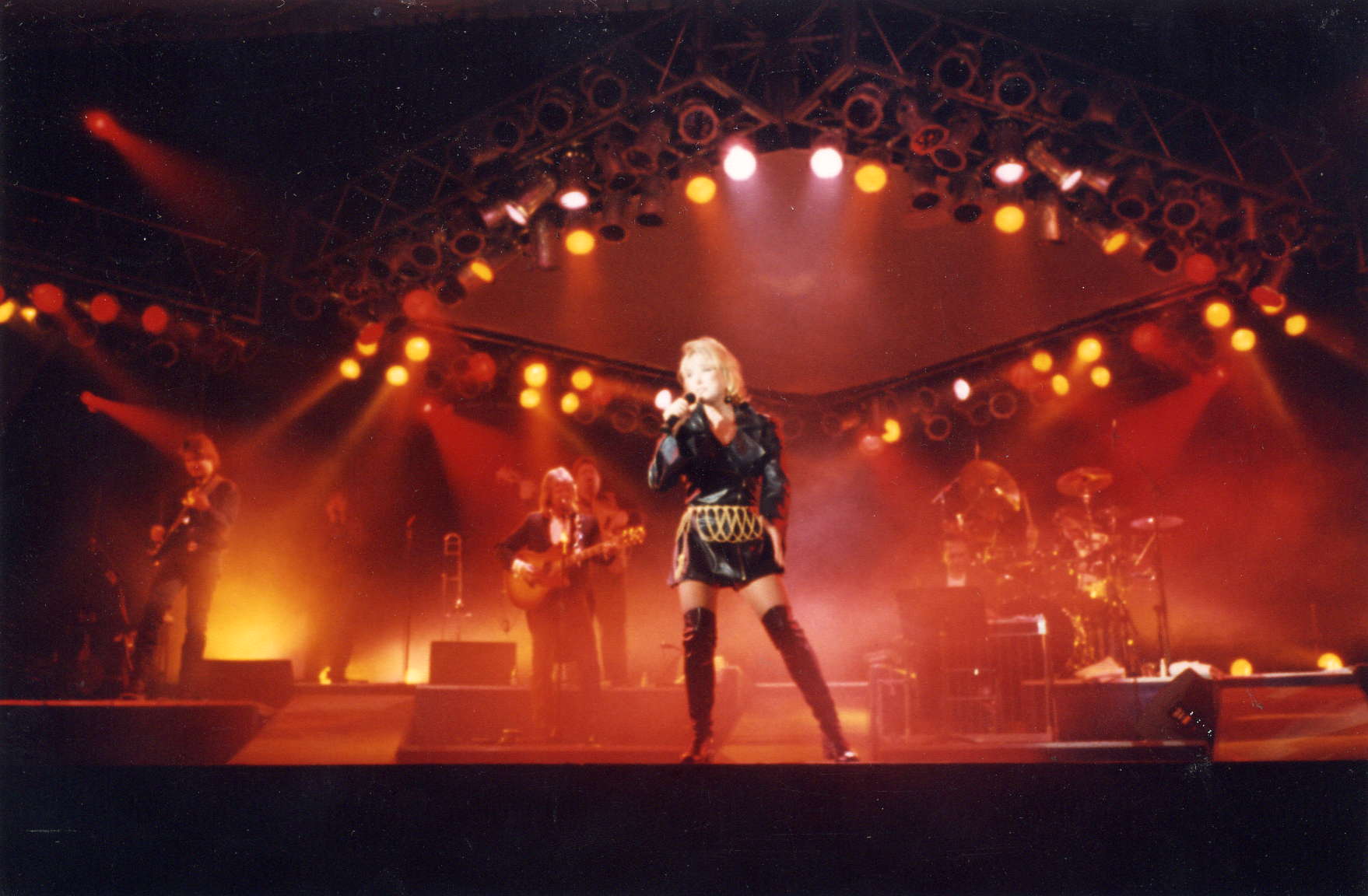 Tanya Tucker in Concert in Nashville. Tucker performed at the 1987 Country Radio Seminar early one morning.
---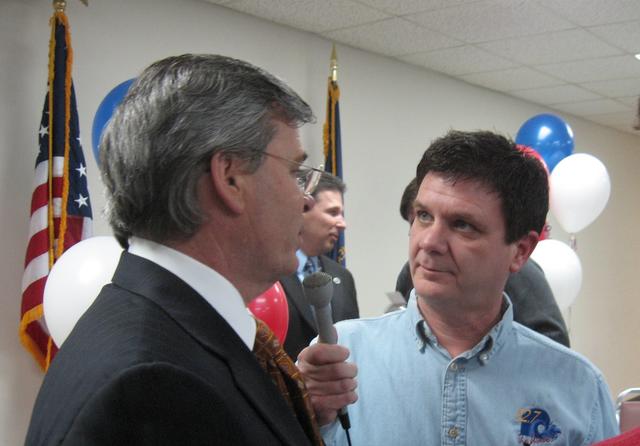 ---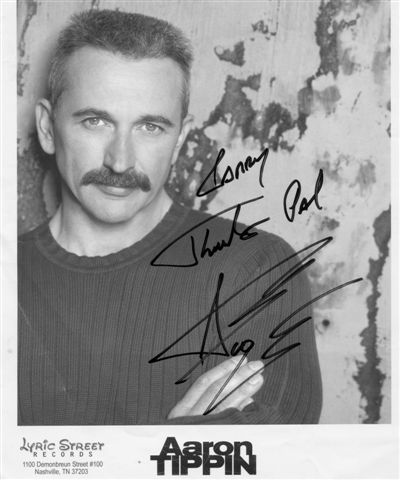 ---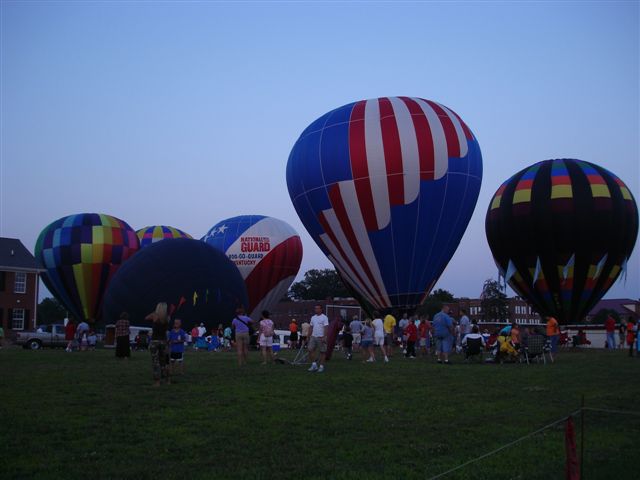 ---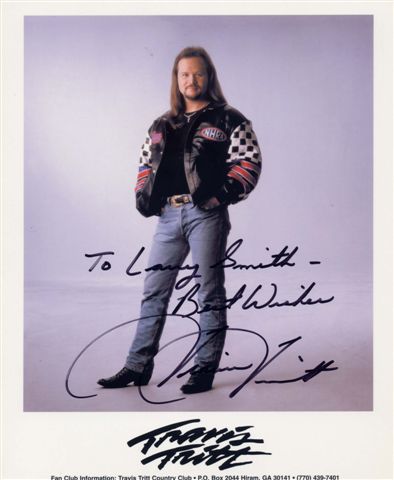 ---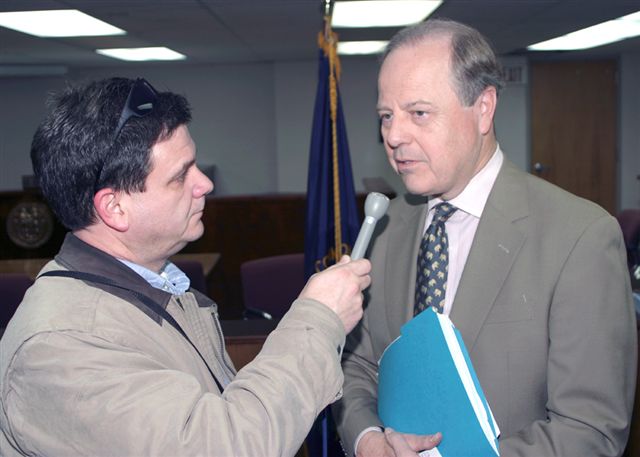 Here's an interview with Congressman Ed Whitfiled at The Russell County Courthouse in Jamestown
---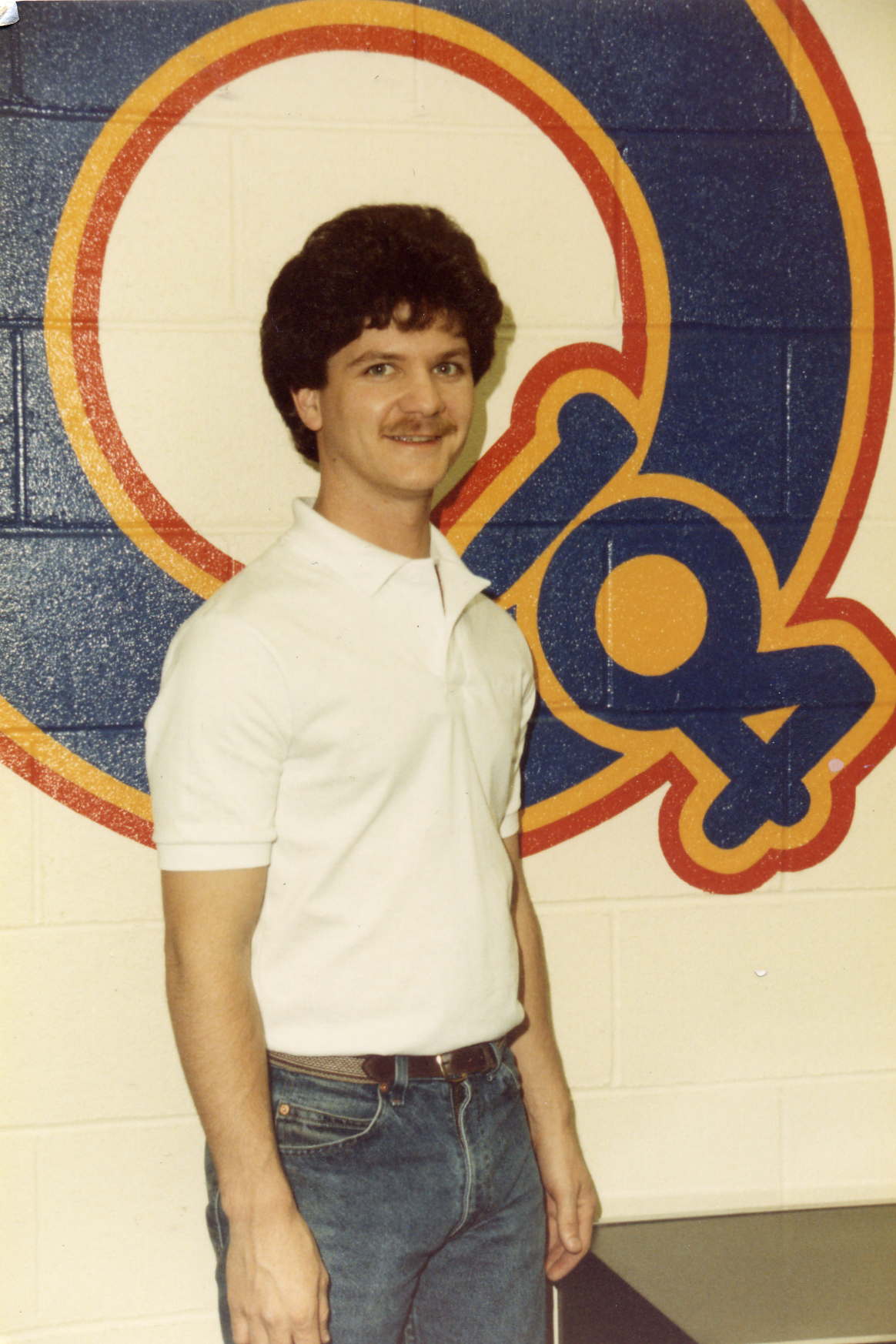 This photo had to be made in the early 80's
---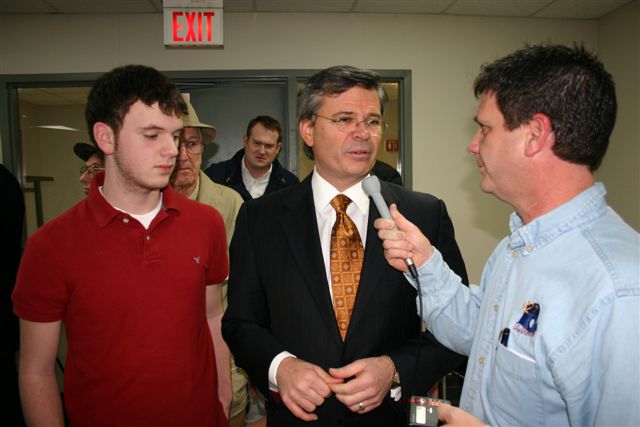 photo by Ed Wagner, ColumbiaMagazine.com
"Protocol Son", Brennan gains valuable experience as 92.7 The Wave's Morning Man Interviews the former Govenor, Ernie Fletcher.
---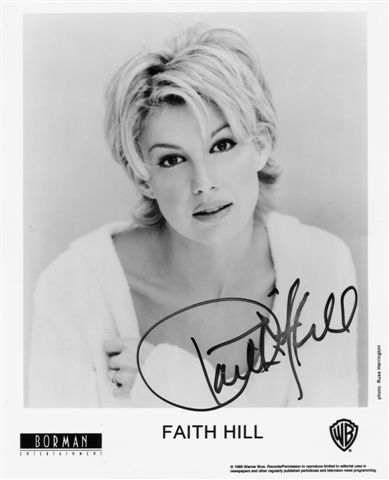 ---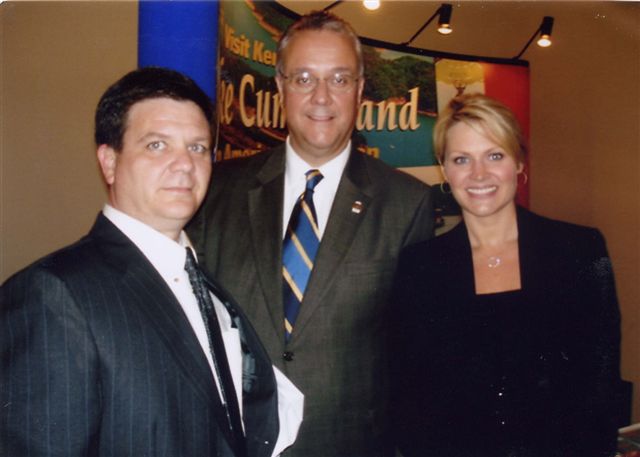 State Senator David and his wife Judge Robin Williams.
---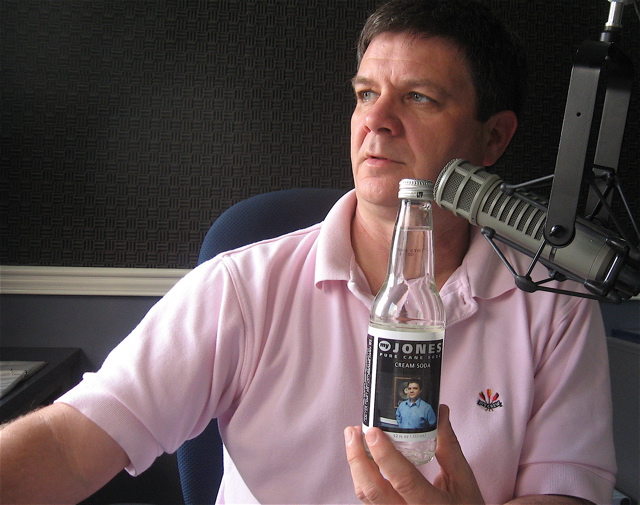 photo by Ed Wagner ColumbiaMagazine.com

Larry Smith Featured on Jones Soda Bottle!
---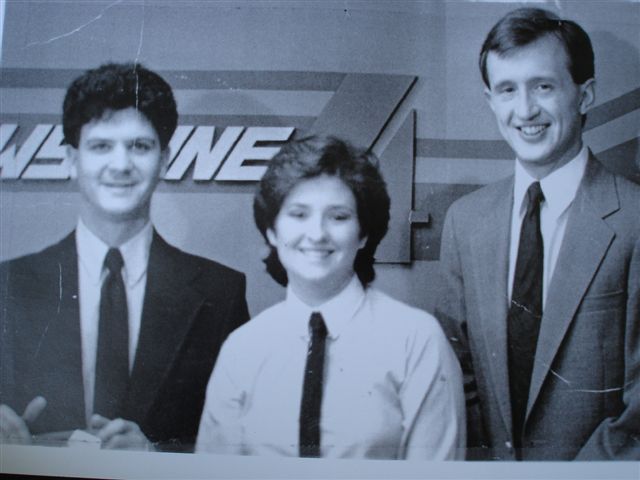 During my radio daze at Q-104 & WTCO in Campbellsville I was weatherman on the TV-4 in Campbellsville. Pictured with me in the photo is Mary Blakeman-Jackson and Tom McClendon.
---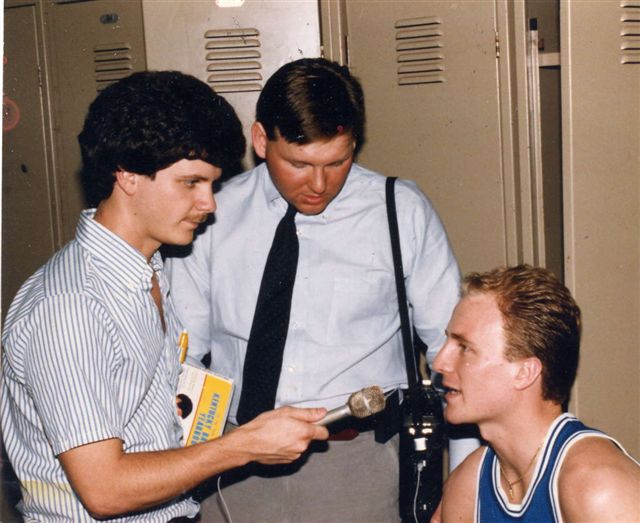 This photo was taken in 1982. I was conducting and interview with a UK player.
---
---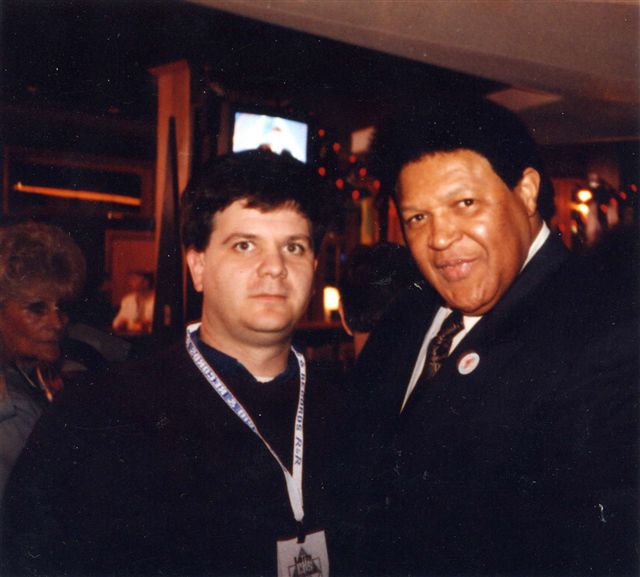 Here a photo of Chubby Checker and myself taken in 1988.
---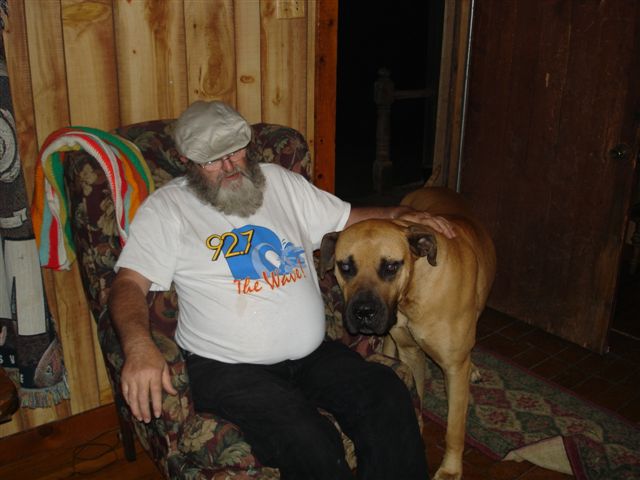 What a dog!!!
Jim "Bony" Karnes of Taylor County and his dog listen to the WAVE everyday.
---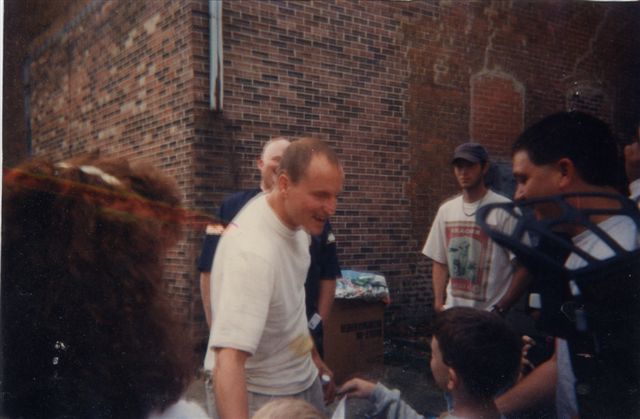 In this photo is actor Woody Harrelson the small child taking to Woody is my son Brennan will soon be 19.
---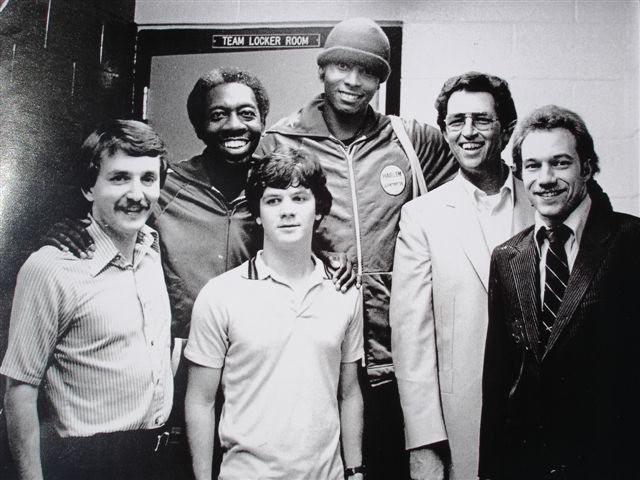 ---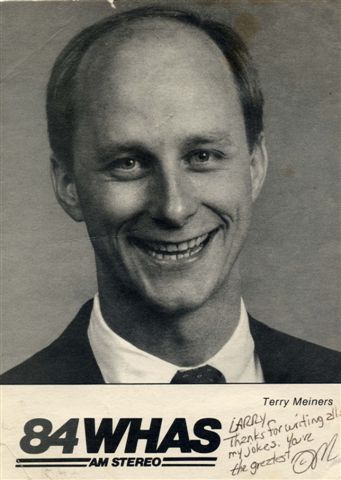 My break at 84 WHAS came when Terry Meiners and I became friends and he help me get in the front door at WHAS. It was a fun ride for nearly 10 years.